Google Ads Service, powered by EKM​
Speak to experts who can help increase your store sales & start with £400 free ad credit if you spend £400​
Why invest in Google Shopping?
Google Shopping is an incredibly important tool that should be included in every eCommerce retailer's arsenal. Brands can bid on products for a relatively low cost per click (CPC) usually ranging from £0.15 - £0.45. When compared with text ads, the cost is likely to be four or five times less in order to achieve a top three position.
It also allows you to sell your products directly on Google in a more desirable format than standard text advertisements. Unlike text ads, shopping ads include rich product information such as an image, title, details and price. It's no surprise why these ads have a higher conversion rate.
Pricing options​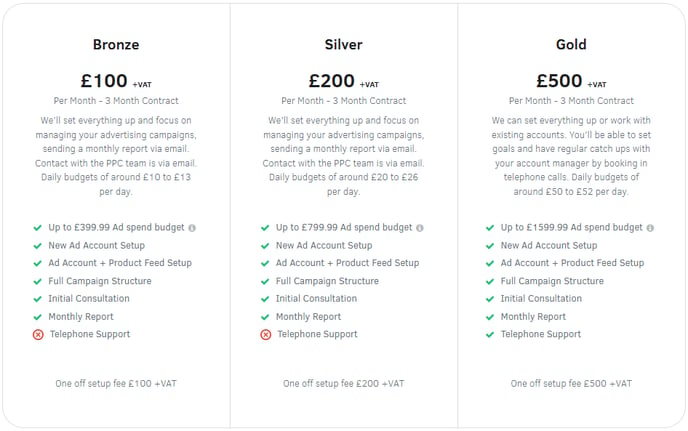 Fill in your details below and an advisor from our partners at EKM will contact you for a no obligation consultation to see if your Ads account is being optimised to its full potential with a FREE audit for anyone who has an online store (applies to Shopify, BigCommerce, EKM, WooCommerce sellers). To help you get started with Google Ads, we'll also give you £400 in free ad credit when you spend £400 (see terms & conditions here).
EKM's Google Shopping Offer Terms & Conditions​
These terms refer to the offer seen on this page here (insert link when ready)​
Offer available only while supplies last.
Offer available only to advertisers which are new to Google Ads, with a billing address in the United Kingdom. One promotional code per advertiser
To activate this offer: Click on the button or link associated with this offer for the promotional code to be automatically applied to your first Google Ads account. The promotional code must be applied to your first Google Ads account within 14 days of your first ad impression being served from such account.
To earn the credit: After the promotional code is applied to your Google Ads account, your advertising campaigns must accrue costs of at least £400, (excluding any taxes or applicable fees), within 60 days. Making a payment of £400 is not sufficient. The tracking of advertising costs towards £400 begins after the promotional code is applied.
Once 3 and 4 are completed, the credit will typically be applied within 5 days to the Billing Summary of your Google Ads account.
The credit expires 60 days after it is applied to your account.
Credit applies to future advertising costs only. Credit cannot be applied to costs accrued before the promotional code was entered in your Google Ads account.
You won't receive a notification once credit in your Google Ads account is used up and any additional advertising costs will be charged to your form of payment. If you don't want to continue advertising, you can pause or delete your campaigns at any time.
Your account must be successfully billed by Google Ads and remain in good standing in order to remain eligible to use the credit.
Full terms and conditions can be found here https://www.google.co.uk/ads/coupons/terms.html
Subscription offers terms and conditions​
Redeem one of these offers in to give yourself a head-start selling online with Avasam​
We know sellers may need a bit more time to source, list and sell products on their chosen sales channels using Avasam so we thought we would help you by providing 3 offers to choose from. These offers are only available in September for one month, so don't delay.
Only one offer can be redeemed per seller, simply use the promo code at the checkout when upgrading subscription.
Definitions​
"Avasam", "us", "we" means Avasam Limited.
"Subscription" means the level of access to the Services and the Avasam DropShipping Marketplace granted to Sellers as determined by the monthly Subscription Fee paid by the Seller and as explained on www.avasam.com/pricing/. The Subscription Levels, ranked from lowest to highest, are:
a)"Free Trial Account"
b)"Starter"
c)"Advanced"
d)"Business"
e)"Guru"
"Seller" or "Sellers" mean online retailers or merchants, either as an individual or company, who sell Items sourced using the Avasam DropShipping Marketplace directly to End Consumers.
"You" means you, the registered seller account holder of Avasam.
"Offer" means the subscription discount offer scheme run by Avasam that discounts Avasam sellers' subscription fee.
Terms and conditions:​
Each offer is only valid from 1st September to 30th September 2022

Each offer is only available to sellers who are not already on a paid Avasam subscription plan. I.e. Sellers should be on a "free" plan before using the promo codes.

To redeem the offers you must be a registered seller account holder of Avasam and agree to be bound by Avasam's terms and conditions, as set out in Avasam's terms and conditions.

Only one offer can be redeemed per seller, simply use the promo code at the checkout when upgrading subscription.
Avasam reserves the right to cancel or amend the offers or any of its terms at any time, for any reason and without prior notice.
Affiliate Program​
Become an Avasam affiliate and make money online by sharing Avasam with your friends and followers. Earn up to £360 annually for every customer you refer.​
What you can get​
Offer: Refer a seller to Avasam & get 20% of subscription revenue (Avasam Paid Subscription)
Potential income: £3.98 - 29.8 per active seller/ month - valid for 12 months
Condition: The seller needs to upgrade to a paid plan in order to generate income for you
Who is eligible: Affiliates & Partners & anyone who sign-ups for the program
Benefits of the affiliate programme​
Commission - 20% from any paid plan for the first 12 months, with income up to £360 annually for any active customer you refer.
Marketing assets - We provide a library of graphics, copy, and everything you need to promote Avasam to your audience.
Custom reports - Track the efficiency of your affiliate marketing using custom reports.
Fast payouts - Get access to your earnings quickly and easily.
Assets and extra support we offer​
Walk-through videos of the platform
Marketing materials including social media assets, platform screenshots, etc
Full support and training for any user on-boarded
Full analytics and reporting to monitor the success of your affiliate program
The possibility to be upgraded from an affiliate to a partner
Start earning in 3 simple steps​
Join now - Sign up to the affiliate program below and we'll verify your application within 5 working days
Spread the word - Promote Avasam to your userbase using your custom affiliate link
Get paid - Receive 20% commission for every seller that upgrades to a paid plan